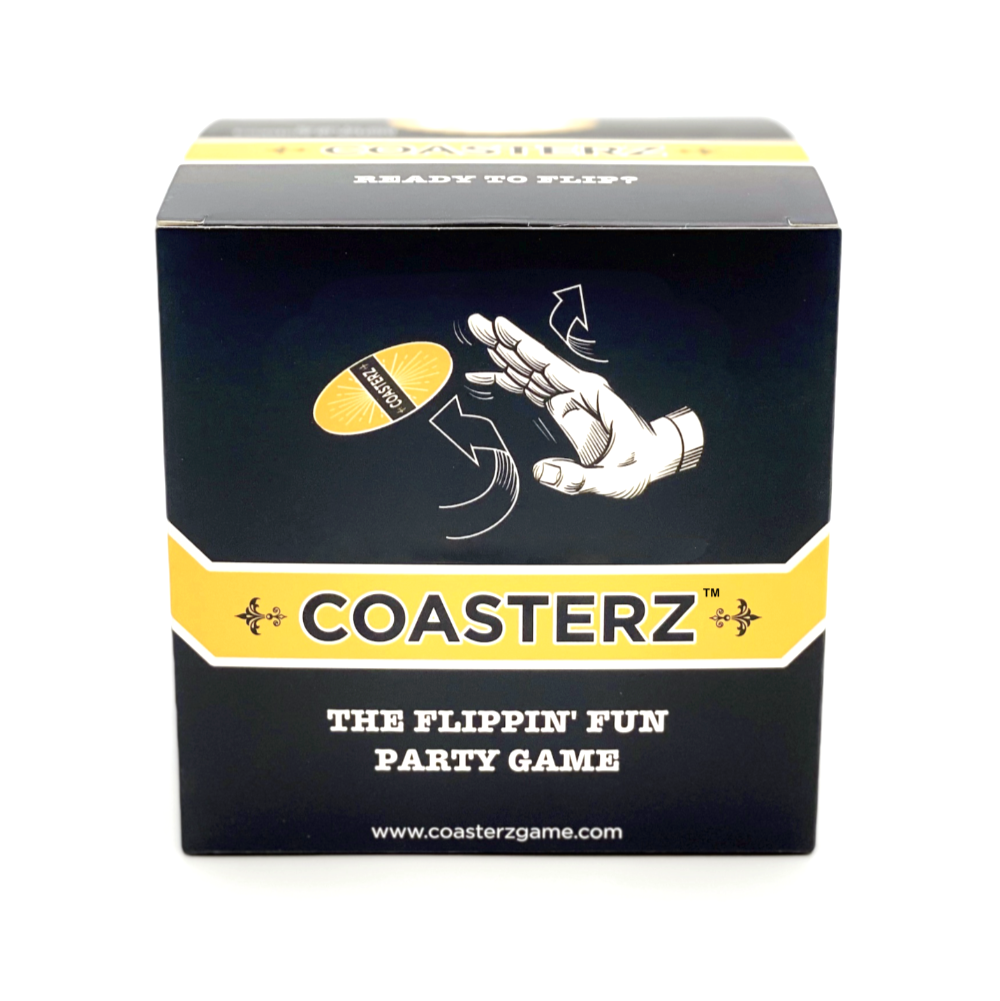 About the Game
From ye olde pub traditions of the past comes a game of action, fun, average coordination and zero intellect. Experience unbelievable feats of athletic dominance… and some truly embarrassing failures. Use the included Challenge Tiles for a classic game experience OR join the online community with your phone for access to an expanded set of challenges!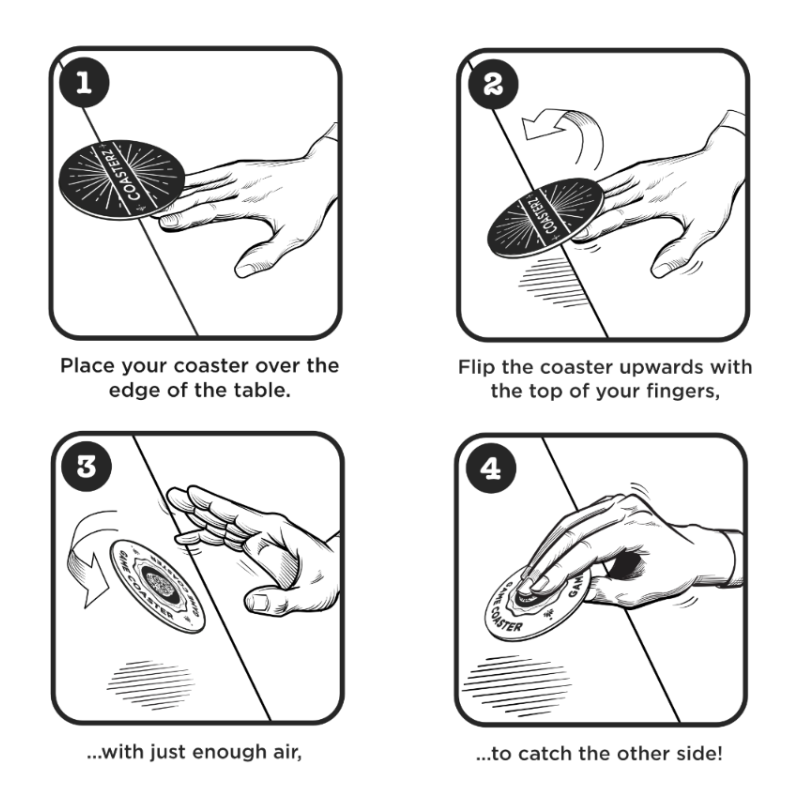 How to Play
Choose a Coasterz challenge & have fun! There are no winners or losers, only fun and bragging rights.
Play offline by choosing a challenge title OR play online by scanning the QR code on your drink coaster!
How to Flip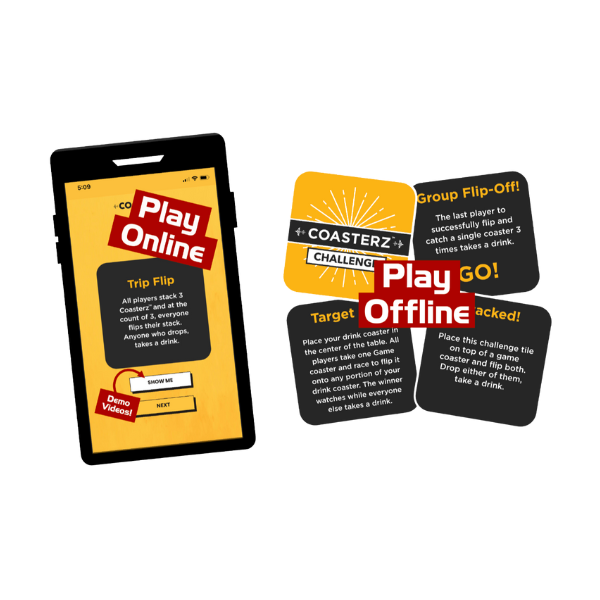 Online & Offline Challenges
Choose your Challenge with the included Challenge Tiles, or scan the QR code on your Drink Coasterz to unlock online challenges and demo videos on your phone.
Check it Out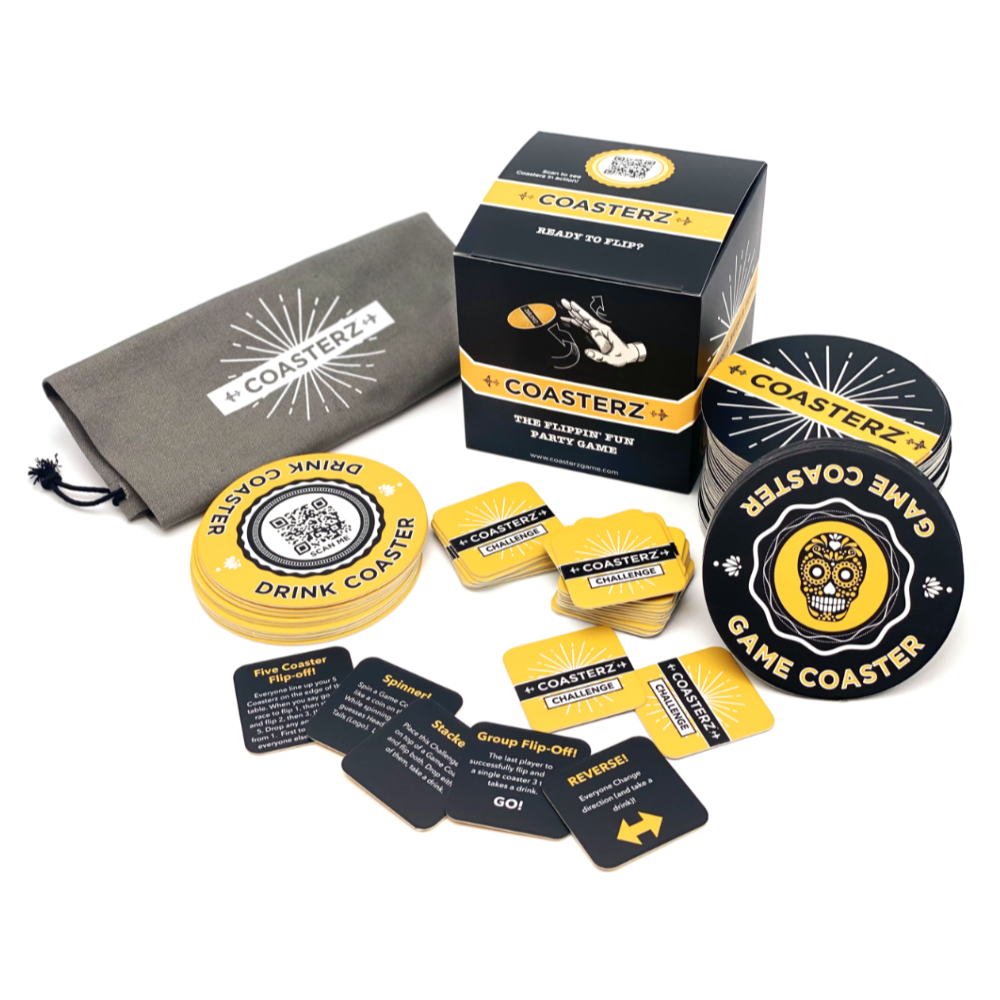 Let's Get Flippin'!
Your Coasterz Game Set Includes:
40 Game Coasterz
8 Drink Coasterz
28 Challenge Cards
Online Demo Videos
1 Reusable Travel Carry Bag
Buy Now
Frequently Asked Questions
Do I have to drink alcohol when playing?

Of course not! You can drink any beverage you like. Or, you can replace any "drink" message with a +1 point and compete to be the last player to reach 20 points. Or, make up your own rules!
How do I flip the Coasterz?

Check out the "How to Flip" video link above on the "About" page.
We've worn out our coasterz and would like to buy more.

Wow, you really play a lot! You can buy additional sets of Game Coasterz in our store.
I've become so good at flipping that I can flip tall stacks. Can I just buy more game coasters or do I have to buy a full game?

Congratulations on becoming an expert flipper! You can buy 40-pack game coasterz in our store.
I have so many ideas for flip challenges, are you planning to have more than just what comes with the game? Can I share my ideas?

We ship the game with 28 challenge tiles and free access to online challenges. The online access allows us to expand the challenges offered and we will be rolling out new ones soon. We'd love to hear about your great ideas, too! Please contact us via the link in the footer below and maybe we'll add your ideas to the mix and name them after you, or your friend, or pet, or whatever you like!
Do you charge for shipping?

We currently have free shipping to anywhere in the US.
Can I order and have a game sent to Canada?

Currently, the best way to save on shipping costs is to order Coasterz from our listing on Amazon Canada.